Memorial Dedication Plaques
Honor the memory of extraordinary individuals by creating bronze memorial plaques. Bronze memorials can be displayed in parks, buildings and gardens.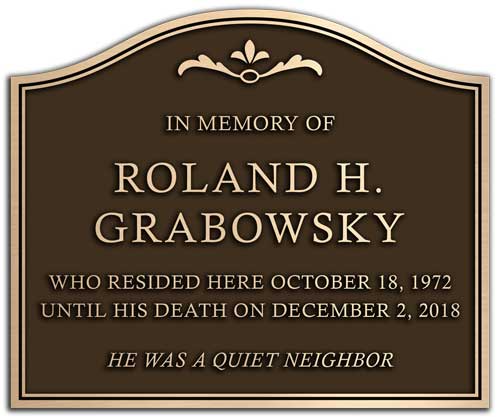 Create custom bronze plaques using your photos.
For this dedication plaque, we used a color photo. The photos is engraved into the bronze plaque and a color treatment is applied during the finishing processed. We create custom aluminum and bronze plaques for commemorating government buildings and facilities.

Below are a few headers to consider for your memorial dedication plaque:
"In Memory Of"
"Dedicated In Memory Of"
"In Remembrance Of"
"In Honor and Appreciation"
"Thank You"

Typical wording for a memorial dedication plaque would be one of the above headers. The name of the person you want to acknowledge. Also, consider using important dates and ending with a nice statement.
Quick Quote
How much does a Bronze Plaque Cost?
---
Planning a project? Fill out this short online form for instant access to plaque pricing and our getting started guide.

*Production days are Monday - Friday
---
Memorial Plaque Designs
Memorial dedications plaques ranging in price from $200 and up. Contact us today for bronze and aluminum plaque quotes. We do not charge extra for including images and logos.
Recent Government Projects
We had the opportunity to produce two bronze dedication plaques that were used in a plant dedication ceremony that the President of the United States attended. This was a last minute dedication ceremony and the client needed the plaques in less that 7 days. We delivered the two plaques on time a day ahead of schedule.
President Trump Tour of Pratt Industries Plant Opening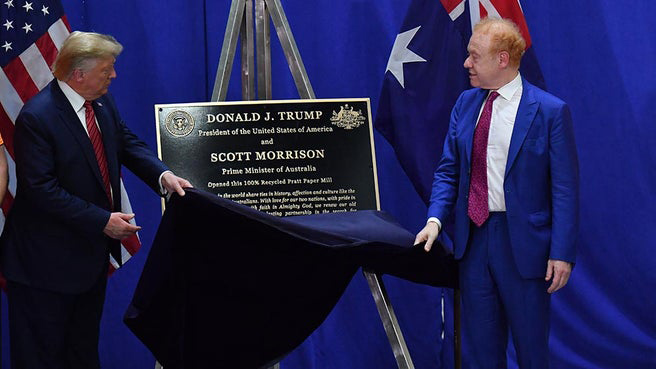 ---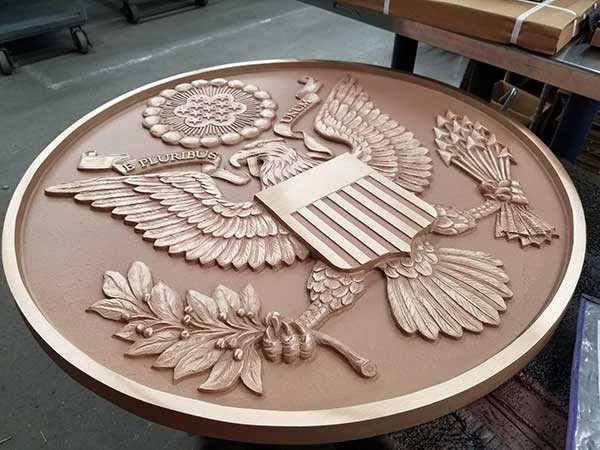 Courtroom Bronze Plaques
Cast bronze bas relief plaques allow you to have much more relief than engraved bronze plaques. An artist creates a clay mold that is then cast into solid bronze. These plaques can be as thick as 1.5" depending on the requirement. The production time is six weeks.
It was a great honor to work with the United States District Court for the Southern District of Alabama. We created seven of these 34" diameter cast bronze bas relief plaques for a new courtroom.
K Bronze Plaques and Metal Letters
410 N. Vermilion
P.O. Box 802
Danville, IL 61834

A Division of the Get Plaques, LLC